Why Lazada Express Vietnam Ltd.?
About Lazada Express:
LAZADA is Southeast Asia's fastest growing online department store, with over 6,000 staff members and operations in Indonesia, Malaysia, Philippines, Singapore, Thailand, and Vietnam. Lazada has earned the trust and financial backing of key investors like Temasek, Tesco, J.P. Morgan, Kinnevik and Rocket Internet. Its broad product offering consists of various categories ranging from consumer electronics to household goods, fashion, toys, health, beauty and many more.
LAZADA EXPRESS is Lazada's in house logistics business, one of the strategic pillars of Lazada Group, with over 1,400 staff members. We provide end-to-end delivery services, covering the first through last mile. We build the infrastructure to enable e-commerce growth and work with external logistics partners to revolutionize the B2C logistics industry across our six countries.
Lazada in Top 100 Vietnam Best places to Work 2016 and No 1 in the most attractive company in the industry Internet/ E-commerce.
Life's at Lazada Express:
Happy birthday:
Lazada Vietnam has inaugurated their new warehouse in HCMC:

• Key and common benefits of the company:

Here Lazada Express, we understand that compensation plays an important role in employees' motivation and job satisfaction, even though it is not the only factor. We acknowledge that compensation impacts on retaining productive employees, which is critical to running a successful business. Therefore, we ensure that our employees value the salary they have and are continuously motivated by competitive compensation policies. We offer our employees:
AON health care 24/24 
15 days annual leave
10 days sick leave with 100% paid
Provided Laptop
Teambuilding yearly 
Lazada Group is pioneering e-Commerce aross Southeast Asia.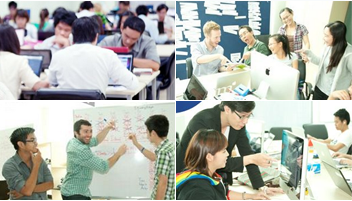 Launched in 2012, Lazada has grown rapidly to include over 3,500 full-time employees in the region, with operations in Indonesia, Malaysia, Philippines, Singapore, Thailand and Vietnam, and a sourcing center in Hong Kong that drives cross-border marketplace activities. Lazada has earned the trust and financial backing of key investors Tesco, Temasek, J.P. Morgan, Verlinvest, Investment AB Kinnevik and Rocket Internet. 
Revolutionizing the way we shop, and perform online transactions across the region, Lazada has an online footprint of approximately 4 million daily visits to its websites, and the largest Facebook following in Southeast Asia with over 10 million fans.
Given our tremendous growth, we are searching for dynamic, entrepreneurial, broad-minded individuals to be part of our rapidly expanding team! Join our diverse and motivated team to hone in on your creativity as well as implement new initiatives within a nurturing, equal opportunity environment! 
Inside review about Lazada Express Vietnam Ltd.
Admin Executive

-

1496735593

Pros: + Open and comfortable working place + Various good benefits: lunch allowance, parking fee, tea break, team building + Friendly and helpful colleagues + Active and dynamic company with great reputation in E-commerce market + Nice and supportive manager